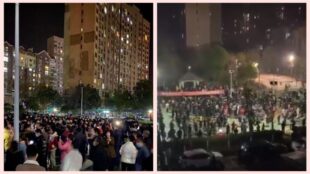 17 hours ago
Protests in Hubei province reveal the dark reality of the battle against pandemic
A century after the October revolution, the approach of the Bolsheviks to resolving the national question remains a shining example of what could be achieved in resolving national conflicts if genuine socialist governments were to come to power across the world

Join us for a mass protest and conference in Milwaukee

A new socialist feminist campaign organization launched by International Socialist Alternative • Get in touch with us today to join our network & struggle — "give us bread but give us roses!"
Protests in Hubei province reveal the dark reality of the battle against pandemic (more…)

Capitalist governments everywhere are exacerbating the crisis and damaging public health systems...

The COVID-19 outbreak is close to becoming a global pandemic – the WHO so far refuses to make...
More in this category →
Workers need to act: build unions / epidemic action committees in every workplace (more…)

China perspectives 2020 The following document was approved unanimously by the 4th congress of...

Mass protests against crematorium force government to back down in fear of a new Hong Kong (more…)
More in this category →
Taiwan capitalism in the context of Sino-US imperialist conflict – document endorsed by the 4th...

Apart from enraging Beijing what difference will the new law make? (more…)

Libel charges can lead to 2 years imprisonment (more…)
More in this category →
Join us for a mass protest and conference in Milwaukee (more…)

A new socialist feminist campaign organization launched by International Socialist Alternative •...

Agribusinesses are willing to conduct massive planet-destroying deforestation, exploit workers and...
More in this category →
A century after the October revolution, the approach of the Bolsheviks to resolving the national...

Who are the real parasites? (more…)

Capitalism and imperialism were driven out, but political power rested in the hands of a Stalinist...
More in this category →